WHOLESALE LARGE FORMAT PRINTING
Welcome to Fly Digital Print! We are a trade printing service specializing in wholesale large format printing and more. As a Trade Printer we do not sell directly to the end user, this means that you will save the time, money and hassle when you use our service versus a traditional printer.
Fly Digital Print offers: wholesale banners, wholesale posters, wholesale tradeshow displays, wholesale large format printing, wholesale grand format printing, vinyl printing, wide format printing, color printing, large prints, digital print solutions that can be found in the Wall Street Journal, and much more!
If you are in the business of selling prints, please register to view our full line of products and see how we can help you grow your print business! Fly Digital Print will be an asset to your print business and best of all with our no banding lines guarantee you can rest assured that you will receive a quality finished product, with excellent color, from us every time regardless if you order a banner, textile or any other printed product from us.
Unlike other wholesale printers we only use original manufacturers inks and name brand products so you can have 100% confidence in anything you order from Fly Digital Print regardless if it's wholesale banner printing or wide format printing.
Our service will save you the time, money and hassle of producing prints, banners or other printed products in house. You can count on us to be the partner that you need to help you grow your business and thrive in any economy or business market.
Don't Miss These Specials!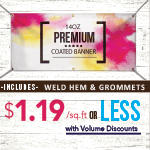 14oz - $1.19 sq/ft.
It has a smooth surface for high quality printing performance, and has a soft rubbery hand feel. 1000 Deniers for strength.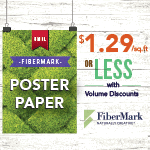 8mil - $1.29 sq/ft.
Our poster paper is environmetally friendly pvc free poster paper. It is great for all your general poster needs.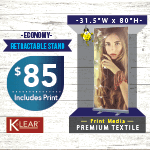 31.5" - $85
The standard retractable stand is an economical way to promote a business or product, especially at trade shows and corporate events!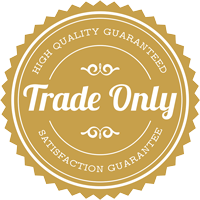 Quality Guarantee
We guarantee your prints to be free of banding lines and full of color. We use quality name brand materials and original manufacturer's inks to ensure the quality and consistency you'd expect from a quality vendor. We know of no one else who truly believes that quality prints start with quality materials. Whatever your needs may be from prints to displays, have comfort in knowing that you will deliver a high quality product to your customer.
Services:
Full Line of Large Format Printing
We offer an extensive line of large format printing services: wholesale banner printing, wholesale coroplast printing, large format photo printing, wholesale large format posters, wholesale displays, wholesale flags, wholesale retractable stands, competitive large format printing prices and so much more.
Support:
We are here to support you
When you have a need to call us, don't worry, we won't transfer you to voicemail. We promise to answer your call when calling during business hours and for your convenience, you can also check the status of your orders anytime online. We understand that there are urgent times when you need to speak with someone. We are here to support you!